This is due to the re-authorization/re-authentication process required by Instagram. This is a normal procedure that Instagram does periodically to ensure your account is secure while using 3rd party apps and is completely random.
Instagram has the right to ask for re-authorization at any time, so you may see this happen once a week or once a year, but is more common around the 1st and the 15th of each month. It is a completely random process that Foursixty has no control over.
The good news is, this is a simple and straight-forward fix by following the steps below!


Step 1:
Log into Facebook.com with a personal Facebook account that has been assigned the Admin role for your Company's Facebook Business page. Only page Admins have the ability to grant the permissions that we require to pull your updated images.


Step 2:
You may have noticed a red bar across the bottom of the screen in the Foursixty Dashboard. Please click Refresh now button to start the reauthorization process.





If you are not seeing the bar, you may see a dot above your "Networks" tab. This is also how we notify you that you need to update an authorization. Click that tab, then click the Instagram Business option.

PLEASE NOTE: If you are accessing Foursixty through the Shopify App, this will be visible only when you click on Menu >> Networks first.





Step 3:
Once clicking on Instagram Business, you will see a blue button that says "Log in With Facebook". Simply click that to reauthorize using the Facebook account that you logged in with from Step 1.
Please note: If you do not see the blue button, please take a screenshot and contact Foursixty Support for additional assistance.


Step 4:
When authorizing the permissions, we recommend that you check to ensure that all the checkboxes for the Instagram account and Facebook Page are checked off as missing even one could prevent your data from coming through.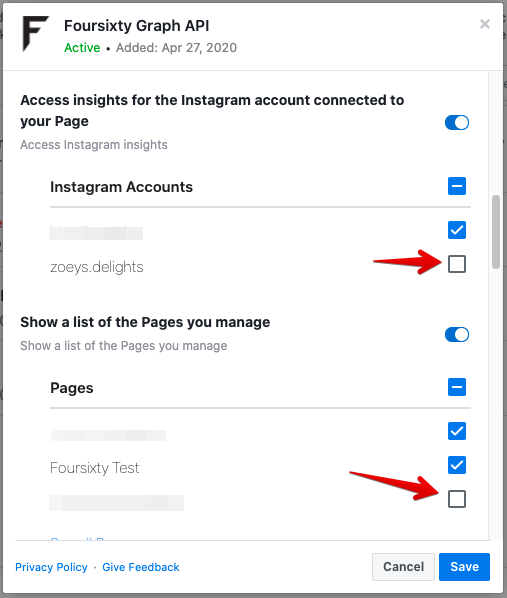 Step 5:
Once you have confirmed your authorization, you should see bubbles in the Instagram Business area that represent your Facebook pages.
- Please make sure that the one that you need connected is in the "Connected Accounts" area. If it is in the "Unconnected Accounts" area, please click the "Connect" button beside the page.
- DO NOT click more pages than is necessary (if you have more than one) as content from all accounts can be brought in at the same time.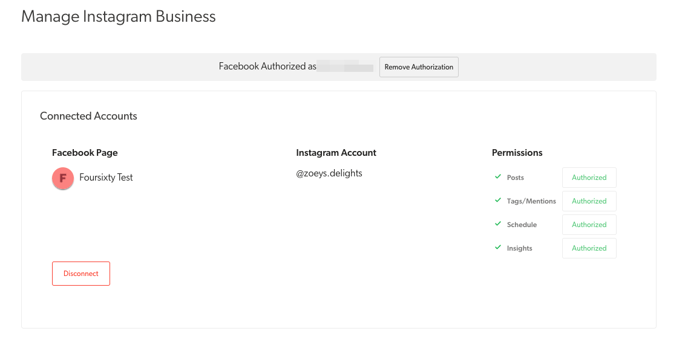 By following the steps above, your account should be reauthorized and your feed should resume updating within 30 minutes. If it does not, please click on Posts, then the "Refresh Content" drop-down under the correct bucket (Your Content or UGC), and select the account to force a refresh to the images.



If you have completed all of these steps and you are still not seeing your images updating, please take a screenshot of the Instagram Business area and contact Foursixty Support for additional assistance.